I am home from Texas! Yes, Its nice to be home..yet im sad. I enjoyed my time so much, and I really miss the friends I have there!
To start my post with I would like to tell Y'all I have started a Tumblr account! I though it would be fun to have something small on the side. And I decided
that I am doing the 365 Project this year and that were I will be posting that! If you would like to follow me here is the link:
Ok....here is an update from my amazing weekend!
This family always has an awsome party! We started by having a Dress Wacky night! Best wacky won! Here area few of us!
Me and Carrie! Sorry for the lighting!
Myself, Cameron, and Clarin! Love these girls! Cameron has been married 7months now :)
We made snowless snowmen! This is are team with are Minni Mouse snowman..sadly..we did not win :(
New Years Day was Spa Day for the girls!
Here we are getting Pedicures! Im the second one in from the left!
Me and Clarin!
My amazing Pedicure!
We had so much fun..i sorta did not want to come home! :)
Im also linking up to Mingle Monday..Im a day late..but oh well :)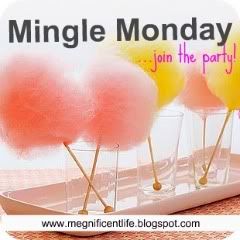 If your over from Mingle Monday..WELCOME! I love to meet new bloggy friends! If you follow me ill follow you! Just be sure to leave your blog address in your comment!
Well..Im off Bloggy Friends! Untill tomorrow!
XOXO