Its FRIDAY!
I am super excited that its the weekend!
Today I am linking up with something new!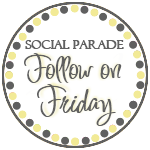 So welcome all who are new! Please feel free to stay for a bit!
Tonight I am heading up to Norman to eat at Chedders with my Friend Tiffany! Then were gonna go shopping!
I may have to stop by Forever 21 again! LOL!
Going to swim in the pool some more this weekend, and soak up the sun!
I got some pictures of the kids swimming and stuff last night! I will have a blog post on that on Monday!
Also, dont forget. August 8th is my 2 years of blogging and I'll be doing some giveaways!
You WANT to come back!
What are you doing on this fine weekend?
XOXO