Well, I did not get pictures of the Bridal Show on Sunday becasue it was CRAZY there! We waited in line for 30min before we got in, and once we were in you had to push through the crouds of people to talk to the venders! I spent most my time snagging cards and pushing through crouds! BUT...it was a good time! There was so much to see and the styles for this year are really awsome!
Bath and Body Works has a new Scent out...and I LOVE IT! I am going into town tomorrow to get these two:
How I wish more of you amazing Bloggy Friends of mine lived closer to me! Ive been going through this "all alone phase" and its not been fun. I love my family and all, and there great, but there is something about hanging out with a friend that just hits the spot. My one friend Anna who I did hang out with is in Japan till April, and all my other dear friends live far away from me. You ever feel that way?
I look at others blogs, and see them hanging out with people, and it makes me sad :(
Well...on a happy note im linking up with: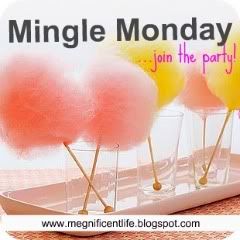 So welcome to any new readers or if you just stopping by thanks for looking! I love new followers and always follow back! So feel free to stay! :)
Also..Please remember the fundraiser I am holding:
The date has been extended since we have not gotten allot of entrys and have had a few people do blog post to help over the weekend!
Thanks muchly :)
XOXO