Since im getting back into the bloggy swing of things its time for: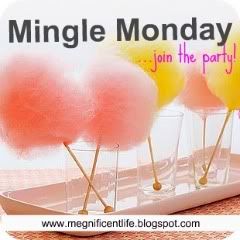 If your over from Mingle Monday...welcome welcome welcome (you can tell I like The Hunger Games..thats what that reminded me of when I typed that!LOL!)
Let me show you my weekend in pictures!
First...I got this on Saturday!
Yes, I MAJORLY excited! I love my new Iphone 4!
This is the sign at are driveway for our ranch! I love it!
Me and my lil sis walkin!
I LOVE collecting glass bottles! This one I found on are walk and its from Mexico!
As you can tell I am loving my phone :)
And this was just amazing! I love being a girly girl but still living on a dirt road!
XOXO