Good Monday Morning Bloggie Friends!
So I have been reading/watching/hearing allot about Bucket List! I really want to start one myself, but I need a few tips first! So I figured I would ask my amazing blog world to give me a hand on the "knowladge!"
Here are a few questions I have before I get going! I do relized that some of this may be up to preferances but I need ideas so :)
1. Do I need to put my list in order from #1 as the biggest thing I want to do the most and down, or just in whatever order they come to me? Cause Im sure I'll be adding more!
2. Like me I want to road trip the USA, BUT I do have places I REALLY want to stop and see! Should I just put USA down or just the places I want to go? Or maybe both?
3. How do you write yours? In a Journal, on the Computer? Both?
4. Were do you store them? Do you display them so You can see it all the time?
Thanks for being patient with me! Im new to this and just need some ideas to get me going! Y'all are awsome!
Just a few more fast things!
One
My little sister started blogging!
Please go leave her some love over at
Softball Queen
! She would think It was the coolest thing!
Also, Im linking up with Mingle Monday!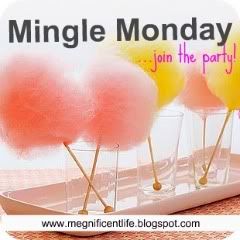 Welcome to anyone that is new!
Also, Dont forget about my Giveaway below! Runs till Saturday! There will be 5 winners! Make sure your a follower before you enter :)
XOXO