Good Morning Bloggy Friends!
Lets start out with a few changes that are going to happen are this here blog!
I have been reading more and more blog post about growing your blog and such! That is something I would LOVE to do!
One of the things are was learning ( and learned this some from the graphic design man here at work that is doing are work website) is "branding". To have a design that works with your Title and your theme that you have for your blog! And to keep your design and not change it every month! Having something so that when someone hears or reads your blog name they have a picture that comes to there mind!
I also love my blog design right now, but I feel its a bit "teenagerish" and at 22 I think its time for me to move on!
So, I am getting my blog redone! You should see changes soon!
And changes in my blogging, and such!
Also, I will be doing my 2 year giveaway this week! Keep coming back!
Now, on to the next fun thing!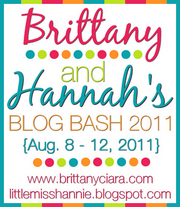 I was in Blog Bash last year and loved it! You all should join in!
Ok, A little about me!
I am Joanna Noel 22, single christian girl! Living and Loving!
I live in the great state of Oklahoma and have been blogging here at Dance and Dream 4 Ever for 2 years this month!
I would love to have you follow me and love new bloggy friends!
I am doing a 2 year giveaway this week so be sure to keep your eyes open!
Ok, Bash questions:
1.) What's your favorite memory from Summer 2011?
My sisters wedding! On June 25 2011 in PA I was my sisters Maid of Honor! We had so much fun!
Are family vacation road trip on the way up was amazing too! Got to see family and stop by the Creation Musuem in Kentucky!
2.) What's your dream summer vacation?
Road Trip!
I want to see NYC, and go to CA and visit LA and such!
I would also like to go to a Broadway Musical!
3.) What's your favorite thing to do in the summer?
Oh goodness! There are so many things I love to do!
Get my nails done! Were Flip Flops! Go Swimming! And so much more!
4.) What's your "blog goal" for 2011?
I want to improve my blog!
My blog design, my blogging style, my blog post!
I want to make my blog fun for all to read!
5.) Let's hear the story behind your blog title!
Well, I guess I see life has hard allot of times! So my thoughts have always been to Dance and Dream through it all!
XOXO