Since I am trying to get back into Blogging full swing I am linking up Today!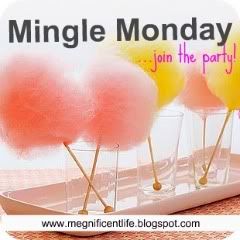 If your over from Mingle Monday..WELCOME!
I have been a very bad blogger the last 3 months, as my followers now and as you would see if you looked down my post!
Let me tell you a little about me if your new!
I am Joanna Noel! I will be 24 in December! I was born in raised in the North but now live in the South! I lived in the OKC area up until 3 months ago!
I now live in West, MS working for a Baptist Girls Home called Lighthouse Childrens Home! I am a dorm parent 2 nights a week, cook meals, and teach school! I keep VERY busy!
I LOVE comments and LOVE new followers! You follow me and I will follow back!
Ok, now that you have gotten to now me, let me tell you just how blond I am! :)
Yesterday morning I changed my password for my Iphone, no big deal, until I went to open it again and COULD NOT REMEMBER THE PASSWORD!
So I have been online and have done EVERYTHING they tell you do to! I am trying to just wipe the phone and start again but my Itunes is being weird! Grrr....
The one bad thing about living in the country, I'm not near an Apple or a Verizon store!
Anyone have any other ideas for me?
XOXO