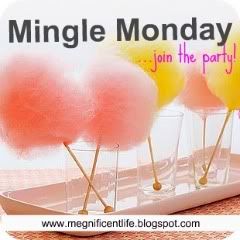 As always, if your over from Mingle Monday..WELCOME! Please feel free to leave a comment or even follow! I will follow back!
My little sister sent me this picture of her on Saturday!
I have been gone for almost 4 months and she has grown up so much! I cannot believe she is 14 and a freshman in high school! She is drop dead gorgeous!
My niece is having her first fall!
My sister sent me pictures of her all bundled up!
And this is her costume! They went to ZooBoo at the Erie zoo last weekend!!
I'll close for now! Enjoy all the cuteness in this post!
XOXO