Its been a long time since I have linked up but today I am going to! So its time for: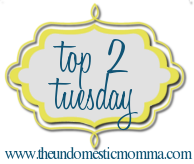 And this week the topic is:
Top 2 Dream Rooms!
I could not for the life of me pick 2 so I went with 3!
This is my dream living room! So cozy!
My dream kitchen, yes, vintage! Actually, I really want a white and blue kicthen but this one looked cool too! :)
And I LOVE this bedroom! This would be the way I want my room now, like now wile im single!
Well, Thats all for now! Maybe another post tomorrow since I got this one up late today!
XOXO