Its Monday so Its time to Mingle!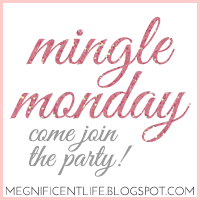 If your over from Mingle Monday...Welcome! I always love new followers and will follow back! Also please leave some love ( comment ) !
This past weekend was kinda different and crazy for me! Usually I have Saturday's off! I had scheduled to go to a friends and wedding and all. Lets just say I did not go and I ended up working! Let me explain!
My dad has not been doing good. He had a stroke before Christmas. He went to the VA hospital in January and they have been running test and all that. We found out that he has an anurism in his brain. This Thursday the 14th my dad has 4 test! I do not know all of them but I know he is having an MRI and a sleep apnie test. ( not sure if I spelled that right! )
I made a last minuet choice to head home to help my mom out with it all. My dad has to stay awake all night on the 13th and be at his test by 6am on the 14th! My mom needs to sleep to she can drive him to OKC and my sister is a freshman in high school and needs to be ready for school that day! So I am heading up early tomorrow morning ( 4am ish ) to help stay up with him and all! I will be heading back here to work on the 18th!
So, Since I will be gone and all I worked Saturday so the dorm parents could have some time off ( they took Saturday and today off! ) I had yesterday afternoon off and worked on some packing! I will be up late tonight finishing and than picking up a few things in my house!
It rained like crazy yesterday! Today the sun is still not out but its not raining...yet!
I would love everyone's prayers for my dad and his test! Also would love prayers for my safety as I make the 10hr drive from MS to OK!\
XOXO