Since I am getting back into my blogging I figured I would start jumping back onto link ups! Im a little late on this one today! But better late then never!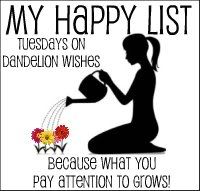 So here is my Happy List right now!
1. I survived my inventory shift I did last night! Worked 9pm to 4am at Old Navy! Crazy crazyness but it was good! I slept till 11:30 this morning! *yawn*
2. Were on the road again! My family and myself are in AR right now going to speak for a Father Daughter conference, then on to MS to visit friends! Back to work by Tuesday!
3. This pictures just made my day! I WANT ONE BAD!
4.My hair is finally growing out again! I want to donate it to Lock of Love but I dont want it shorter than my shoulders and I am trying to work all the color out of my hair! Maybe soon!
5. I found this photo on Pinterest too! I want one of these as well!
What is your Happy List? Link up and enjoy too!
XOXO