And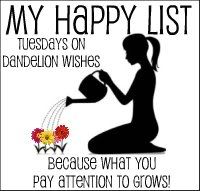 Its Tuesday and I am excited to talk about all the "Happy" in my life right now!
The first thing that had me smiling this morning was my bank account! Yes, you read right! Last month I sold around $900 in Pampered Chef stuff! So my commission check went in today! Its the largest I have ever done! I am really starting to feel like I can really move my business! I so love my job!
I got a new Day Planner last night! I would so LOVE one of the amazing once everyone here on the blogging world got way back when, but I dont have the money for one, so I went to Wal-Mart and found one I liked! I am super excited to get even more organized then before!
Do you have any tips for me? Like highlighting diffrent things diffrent colors, sticky notes, or whatever?
Called a place this morning that does a Bridal Fair in Lawton every January and found out they do not have a Pampered Chef Consultant for that day and would love one! So I am super excited to set up a booth there in 2012!
A friend from Texas called me Sunday and said she was coming to visit me this Friday! I cannot wait! I think the 2 younger siblings and I will take her to Bricktown!
Its been chilly around here! This makes me super happy! Being born in the North and all, there are times I do love the cold! And here in OK we dont get that allot! Its fun that it is feeling like Fall!
Also, Welcome to any new people reading from the above link ups and Mingle Monday! (yes, I am a day late!) Hope you stay and have some fun! Leave me a comment, I'll be glad to comment back!