I know...I know...everyone is falling out of there seats that I am actually making a blog post! Than again Im not sure if anyone has even stuck around! I have been MIA for a VERY LONG TIME!
So, I am not gonna try and run you down with a massive long post and yada yada....so lets do this.....I am linking up to Mingle Monday so I'll say Hi to all you new people over to this side of my blog corner from there, let y'all know about me...and the people who have been here for some time...they can catch up on my life that way!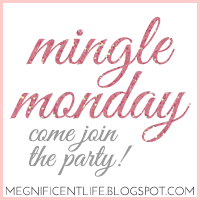 My name is Joanna Noel! I love to meet new people and you will find that over here on this blog we are very random.... if we can stay faithfull to blogging! LOL!
I was born in PA and now live in East Texas! I must say I love being a southern girl! Cant get much better than the South I think!
I am married to my amazing husband Andrew! We have been married 4 months!
We have 2 big new things happening in our life! Here they are!!
1. We are moving a little farther down in Texas! Near the Gulf! Andrew got a new job with the State! We are really excited for the move! It will be nice to get out of the 5th wheel camper we have been living in and into an apartment! Are move in date is August 1st! Less than 2 weeks! I am so excited! Any advise on apartment living I would love!
2. We are having a Baby in December! We decided we would have kids when they came...not stop it but not try allot. Well looks like it happened really fast! I am super excited! I know its not easy and all that...but I am excited for it anyways!
Well, Let me put a few pictures up from our wedding so you all can enjoy a few!!