Its Tuesday and that means its time for........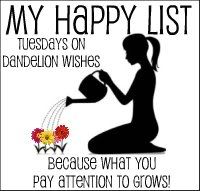 If you are not invovled in this link up you really need to start! I have been out of the look ( well blogging loop and all ) and I have missed it, so I can only imagine what you feel if you have never joined :)
So, My Happy List this week!
1.) Been sick since Wednesday and I am super happy I have an amazing job with some amazing Managers that are cool with me calling in yesterday to say I could not make it.
2.) I cannot wait for this weekend to get here! Headed back to Van Bruan AR with my cousin and were gonna just chill for the weekend! VERY MUCH needed!
3.) This picture makes me smile! I want a stack!
4.) My laptop has been working GREAT for the last week!! Fingers crossed it stays that way!
XOXO